New York Giants Stats That Matter Through Week 4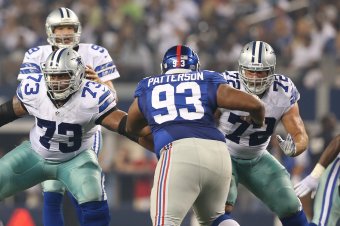 ___ Online: http://bit.ly/19llmsA The Daily Gazette of Schenectady on the trashing of an ex-NFL player's house by hundreds of young partygoers. Sept. 30 Who knows? Perhaps the unauthorized use and trashing of former pro football player Brian Holloway's house in Stephentown by hundreds of area teens would not have generated quite the "media circus" that one of the teens' parents characterized it as, had the homeowner been John Q. Public instead of a minor celebrity. But it hardly matters. This parent's reaction, recorded in a story in Friday's (Albany) Times Union, pretty well exemplifies the issue Holloway cited when, several weeks after the party, he finally decided to press charges against the perpetrators. In truth, he ought to have sooner, because the overwhelming majority of kids who took part in the "festivities" has proven to be unrepentant and must be held accountable. Frankly, it's hard to believe this wouldn't have been some kind of regional story had the property owner been the anonymous type. Before, during and after the party, there was no defending what these kids did. When they responded to an irresponsible call over social media websites to show up for a house party, they had some obligation to know the circumstances that the property owner was out of town and hadn't authorized the party. And even if they didn't know beforehand, they should have figured it out pretty quickly when they arrived: No sane homeowner would have permitted a gathering of booze- and drug-taking teens so large (300-400) or so ill-behaved (Holloway reported finding 10 broken windows, 20 holes punched in walls and enough empty beer cans and liquor bottles to fill 10 55-gallon plastic bags). And when all was said and done, the kids should have responded to Holloway's appeal to own up to their behavior and help him clean up. Sadly, only a handful did; and when Holloway reposted numerous kids' pictures on his website in an effort to shame them, some parents threatened to sue. (Never mind that the pictures had already been posted elsewhere on the web by the kids themselves, to proudly show off their presence at the party.) While a case of this magnitude threatens to tax the resources of Rensselaer County authorities, including the tiny Stephentown court, it's worth pursuing because not just these kids and their parents, but kids and parents everywhere, need to know that a "party" of this sort is just plain wrong.
The Giants, Jets and Steelers are the only teams in the league that are below minus-4 in this area right now. 23: That's the percentage of third downs the Giants have converted on offense this season, which ranks dead-last in the NFL. Since 2005, that number has never been below 35 percent. 50: That's the percentage of third downs the Giants have had converted against them this season, which also ranks dead-last in the NFL. Since 2005, that number's never been above 43 percent. Giants on third down 50% (32nd) NFL.com 69.1 and 56.3: That's Eli Manning's passer rating and completion percentage, and both numbers rank in the bottom-six in the league, respectively. That rating is his lowest since his 2004 rookie campaign. He also leads the league with nine interceptions and has been sacked more times than all but two other quarterbacks. A list of qualifying quarterbacks with lower ratings than Manning: Chad Henne, Christian Ponder, Geno Smith, Brandon Weeden, Josh Freeman and Blaine Gabbert. 65.3: That's Manning's accuracy percentage, according to Pro Football Focus (subscription required). That's a revised rateit takes dropped passes, spikes and throwaways into accountand it's a formula that has determined that only Josh Freeman (now benched) has been less accurate than Manning this season. Where Eli Manning ranks 31st Pro Football Reference/Focus 4: That's the number of sacks the Giants have recorded this season, which is tied for last in the league. They also have the lowest sack percentage in football. They averaged 3.0 sacks per game two years ago, 2.1 sacks per game last year and are now averaging 1.0 sacks per game one month into the 2013 campaign. The pass rush just doesn't exist. 34: That's the yard-line opposing teams are starting on against the Giants, which gives New York's defense the shortest average field in the league to defend. 1,700: That's the number of yards Victor Cruz is on pace to compile in 2013, which would be a career high. Yes, this is a positive stat.Cruz is also on pace to eclipse the 100-catch plateau while catching 16 touchdown passes.