it wasn't a burger. There was lots of settling, compromising and making do during the two weeks. Our biggest challenge was preparing balanced meals with limited ingredients. We compared prices, bought in bulk, watched for sales and pinched our pennies. Success! At the end of twoweeks we stayed within our food stamp budget. Our food was good for our health and our bones. And our choices were 97 percent organic. After the first two days, our appetites adjusted to more modest meals. We both lost five pounds without feeling hungry. Emotions ran high. Frustration arrived when I couldn't buy what I wanted.
Mayor Cory Booker: My Organic Food Stamp Challenge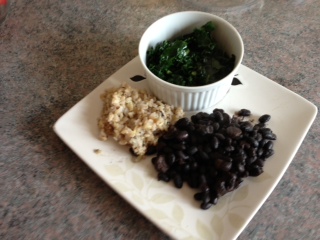 Carbonated water is taxed. That means plain water carbonated and not sweetened, not soda with sweeteners. What about warm sodas never refrigerated? The lucky mobile food truck owner in Sacramento has restaurant software to compute the tax rates as they change by location and by food. Is the food truck packaging the food to go or does it have chairs and tables in front of the truck where people sit down to eat? Not all mobile food trucks can afford restaurant software to compute the taxes. Some use paper and pencils and have to take the time to do the tedious work of computing sales tax for each location the truck drives to during each day. Mobile food truck ownership is more that joining the Food Network. The Board of Equalization – State of California collects all sales taxes on prepared food, whether its served in a sit-down restaurant or at a stand-in-line truck, then doles out the local share to cities and counties. The same tax rules apply to trucks, carts or stands that do not have a permanent physical location. If you're thinking of opening a mobile food truck business, you may want to use the same cash register software for all locations as sit-down restaurants use to compute your state taxes as you change locations during the day. The software, which costs about $300 a month, according to the Sacramento Bee article, also helps prevent employee theft because the software knows each sales and how much tax was collected for each sale. It's expensive to start a food truck business. You need to buy a mobile food truck which costs anywhere from $25,000 or more if you buy a used one. Then you have to spend thousands more to make it look like new and put in grills, friers, and all types of wrapping papers.
Food meets technology at the International Food Bloggers Conference
Renowned New York Times food photographer Andrew Scrivani returned by popular demand to share his A-Zs of digital food photography. Chef John Mitzewich of Food Wishes gave another lively and humorous cooking demonstration, this time preparing raw salmon recipes. Bloggers searching for more instruction on how to develop their creativity and writing attended sessions by cookbook author/journalist Kim ODonnel (The Meat Lover's Meatless Celebrations) or Cynthia Lair and Matt Smith of Cookus Interruptus. For those heading in a more entrepreneurial direction, sessions with AllRecipes, WordPress and Google+ addressed the elements of building blogs as a business, addressing topics such as building traffic, blog design and understanding and utilizing social media. But the real star of the show is the food. From artisan olive oils to Bordeaux wines to scallop and bacon sliders on a Brioche buns, bloggers sampled, photographed, blogged or tweeted dozens of gourmet goodies at every seeming hour. For Saturday nights dinner, IFBC organizers forewent the big group meal and instead partnered with Urbanspoon , which organized 25 small group dinners at the citys top restaurants, each with its own tasting menu and opportunity to chat with the chef. Anyone monitoring the twittersphere could see the flood of photos and tweets of the #Spoondinner eating revelry that took place that night. Eating aside, IFBC organizers have noticed the changing appetites of food bloggers as they adapt to mercurial changes in technology and the rising awareness of the relationship between food and health. "When we announced our gluten-free sessions, there was a cheer in the room," said Barnaby Dorfman, co-founder of Seattle-based Foodista , which organizes IFBC. "The first year of the conference, there were one or two gluten-free bloggers; it wasn't really an issue. The second, we had the blogger Gluten-Free Girl speak. This year, the ethical treatment of animals is something we had an element of, along with the issue of non-GMO foods. It's the continued sophistication of the organic/non-GMO discussion." Readers now can choose among a sea of blogs dedicated to gluten-free cooking, precipitated by the growing number of people diagnosed with food allergies or Celiac Disease. Penor said six months after she started her blog, her 8-year-old son was diagnosed with multiple food allergies, narrowing her focus to gluten-free, organic and nutritious meals for the family on the go.
Some food aid funneled through states will continue if the government shuts down
(Tracy A. Woodward/The Washington Post.) Yesterday we cited a report that predicted federal food aid funneled through the states would dry up quickly if Congress fails to pass a bill authorizing some funding beyond Oct. 1. Well, the Department of Agriculture now says that thats true for some programs, but not for all. In a document outlining its contingency plan for a potential shutdown next week, USDA said funding for Supplemental Nutrition Assistance Program benefits formerly known as food stamps in October will continue under authority granted by the 2009 stimulus bill. In addition, the agency said, states might still also be able to receive partial reimbursements for related administrative costs from a $2 billion contingency fund. Child nutrition programs including School Lunch, School Breakfast, Child and Adult Care Feeding, Summer Food Service and Special Milk will also continue into October, the USDA said. But not all food aid will continue. Federal funding for administration and benefits under the Supplemental Nutrition Program for Women, Infants and Children which provides grants to states for food aid, health care referrals and nutrition education for some low-income women and children will cease if the government shuts down. States may be able to pull from some leftover funds for a week or so, but would likely be unable to sustain operations for a longer period, the USDA report said. Niraj Chokshi reports for GovBeat, The Post's state and local policy blog. Before that he covered budget, tax and transportation policy for National Journal, blogged at The Atlantic and covered the business of the nation's largest law firms in California for The Recorder.