Lubin, a two-time junior Olympic champion from Kissimmee, Fla., was described in the letter written by Charles Butler, the president of USA Boxing, as the USA's "best hope." In a tweet Tuesday, Lubin said, "Officially signed to Iron Mike Promotions. My pro career starts now." Tyson wasn't talking, but his publicist said Tuesday there was no arm-twisting involved. "IMP (Iron Mike Promotions) and Rivalta Management signed him today on his 18th birthday," said JoAnn Mignano. "That was his choice, nobody forced him to sign a pro contract." PHOTOS: Mike Tyson's career Boxing promoter Don King lifts heavyweight champion Mike Tyson after Tyson defeated Trevor Berbick in Las Vegas. Douglas C. Pizac, AP Last Slide Next Slide Mignano and IMP publicist Bob Trieger also said that nobody complained when New York-based promoter Lou DiBella signed highly regarded 17-year-old amateur prospect Junior "Sugar Boy" Younan last month. Younan is expected to make his professional debut later this month or in early November. USA Boxing said it will pursue legislation to stop "professional promoters from attempting to sign athletes in the Olympic pipeline." "You are offering these athletes pennies on the dollar of what they could be worth with an Olympic medal, or even potentially just being an Olympian," Butler wrote in his letter to Tyson. "You are also undermining the next United States Olympic Boxing Team in the process." The USA boxing program has suffered in recent years. There were no male Olympic medalists in London last year, and only one, bronze medalist Deontay Wilder, in Beijing in 2008. The last U.S. Olympic gold medalist was Andre Ward in 2004 in Athens. Ward is now the undefeated super middleweight world champion. Scott Blackmun, the CEO of the U.S.
USA Boxing: Open Letter to Mike Tyson
The value of these youngsters can increase dramatically if they become Olympians and, better yet, Olympic medalists. You are offering them a pittance of their future worth. USA Boxings dedicated volunteers give their lives and their time to rescue our young people from the disadvantaged communities often riddled with crime, drugs and gangs. We provide an outlet for these young people to release their aggression in a positive matter under strict supervision. We are the safest of contact sports—for example, boxing has just one-third the concussion rate of football. A doctor is present at every competition and every athlete receives pre and post-bout physicals, which is often more medical care than others in their community are receiving. USA Boxing asks any readers of this letter who have compassion for these struggling athletes to donate what they can so we can help them pursue their Olympic dreams. Donations to USA Boxing can be made at: usaboxing.org or sending to: USA Boxing 1 Olympic Plaza Colorado Springs, CO 80909 USA Boxing is currently moving in the right direction, our junior athletes won four gold medals in World Championships action in the last month and the United States has claimed 75 international medals in 2013. We are working extremely hard to give our young athletes the right resources, coaching and guidance to succeed at the highest levels. Mike, you have been blessed with the talent to advance as far as you did in the sport of boxing. Please do the right thing now. Let our young boxers develop and represent the United States proudly in Rio de Janeiro. Dont hurt your country by signing these athletes before they are ready to make the transition to professional boxing. Lets work together to protect our fine young men and women as they seek to fulfill their Olympic dreams.
Miss Teen USA: Screamed upon learning she was 'sextortion' victim
Security cameras, lights, heating control systems and even door locks and windows are now increasingly coming with features that allow users to control them remotely. Without proper security controls, there's little to stop hackers from invading users' privacy, stealing personal information or spying on people. FTC cracks down on hacked video camera maker Abrahams is a computer science student. His arrest came six months after Wolf alerted authorities to the "sextortion" scheme. Authorities executed a search warrant at Abrahams' home on June 4, at which time he "voluntarily agreed to speak" with a pair of FBI agents. Describing himself in that interview as a college freshman who was good with computers, a criminal complaint said, he admitted using malware and his expertise to "watch his victims change their clothes and … use the photographs against them." When he admitted what he'd done, Abrahams said he had 30 to 40 "slave computers" — or other people's electronic devices he controlled — and has had as many as 150 total, according to the complaint. Investigators also linked him to at least eight other young women, some of them, like Wolf, from Southern California. Others were from as far away as Moldova. Rutgers Freshman's Suicide Shows Risks of Webcams Wolf said she became aware of the hack after she got a Facebook alert that someone had tried to change her password. She then noticed other social media accounts were not "acting the same." The pageant contestant, now attending school in New York, replied to a couple of e-mails that day in March. "I asked him, 'Please don't do this to me.'" Authorities advised her not to have further contact.
America's Cup: Australians to challenge Team USA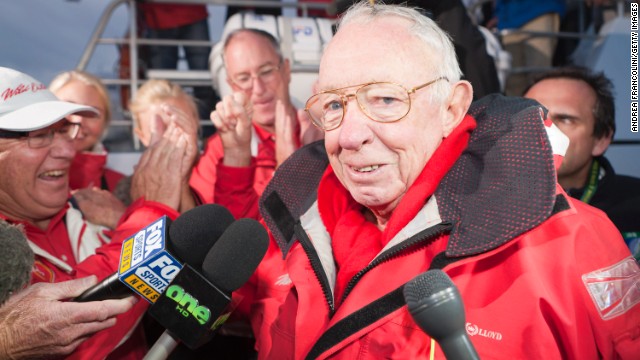 STORY HIGHLIGHTS Australian wine mogul Bob Oatley has announced plans to enter a team in the America's Cup The vintner filed his challenge to the Golden Gate Yacht Club Oracle Team USA are the defending champions of the elite sailing trophy The Americans fought back to defeat Emirates New Zealand (CNN) — Australian tycoon Bob Oatley is turning from wine to water as he announced his intention to build a team to challenge defending America's Cup champions Oracle Team USA. The renowned vintner filed his intention to challenge for the 35th edition of sailing's blue ribbon event Monday. Oatley — a man who is described as "as famous for his wine as he is for sailing" — lodged his intent with San Francisco Golden Gate Yacht Club. The club is classed as the "defender and trustee" of the trophy after its team, owned by American billionaire Larry Ellison, won the 34th America's Cup last Wednesday. Oracle Team USA staged a magnificent comeback from 8-1 down to sail to a 9-8 win over Emirates New Zealand to claim the oldest trophy in sport. The American boat was packed with an international crew and skippered by Australian Jimmy Spithill. A Comeback for the Ages The sailors who race the America's Cup Oatley said seeing what the sailors from the southern hemisphere achieved on the waters of San Francisco Bay persuaded him it was the right time to enter an Australian team to challenge Team USA. "Given Australia's previous success in the America's Cup, the Admiral's Cup and Olympic yachting, and as proud Australians, we think it is time for our nation to be back in our sport's pinnacle event," Oatley said. "The recently completed America's Cup in San Francisco has revolutionized the sport for sailors and fans, and we were excited to see how many Australians played key roles on the teams and in the regatta organization." Oatley lodged his entry through the Hamilton Island Yacht Club. The entrepreneur owns the island off the east coast of Australia and has taken to the waters with great success, seeing his crews win the Admiral's Cup and consecutive Sydney to Hobart yacht races. Details on the dates and venue for the next edition of the America's Cup are due to be published in the first few months of 2014.